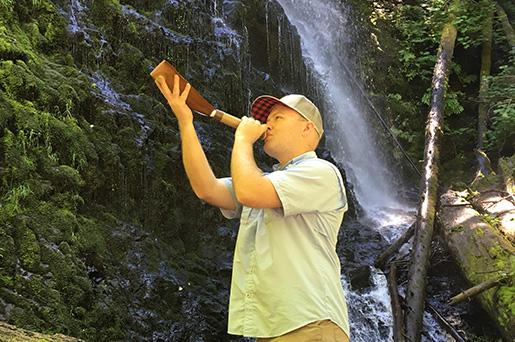 User Review: P2G in the Pacific NW
With summer sunshine breaking out from the gloomy grey of winter in the Pacific Northwest, my wife and I decided to go on a day hike in the Tillamook State Forest about an hour from our home in Portland, Oregon. The weather was perfect and the trails were serene. We brought along our newly acquired Pure2Go Water Purifier to use and to see if it would suit our needs for longer backpacking trips planned this summer. After a bit of hiking, we came upon University Falls and were quite parched so we decided to forgo the squeeze pouch or gravity filter bag and just drink straight from the rushing stream near the Falls. The Pure2Go was simple to use and worked great. There was no prep work, no need for extra tubes, pumping or squeezing like we are used to with our other water filtration devices. We simply flipped open the mouthpiece cap, placed the Pure2Go intake side into the stream and drank. Simple and refreshing!
After taking some photos of the beautiful water fall, we decided to try out the gravity feed bag and the squeeze pouch that came along with the Pure2Go. Both were a breeze to use. I really loved the simplicity of the device. We filled our water bottles using the gravity feed bag and headed on our way to continue our hike and enjoy the beautiful Tillamook State Forest.
We always bring the ten essentials on any hike or backpacking trip, but after getting the Pure2Go Water Purifier, the need to carry extra water isn't a big concern. The versatility makes drinking water from any water source simple and quick. We can't wait to bring along the Pure2Go on some overnight backpacking trips later this summer.
[Best_Wordpress_Gallery id="4″ gal_title="Ryan and Amanda"]